Liquid Health Products Sleep Well GF - 59 ml
Item #

HGR 1402163

by

Liquid Health Products

(Mfg. Part #

1402163

, UPC #

765462000325

)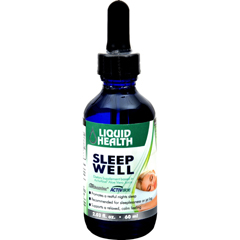 Order
5
+ and save $
0.23
Each
No Hangover Effect - Sleep Well Promotes Rejuvenating Natural Sleep that Doesn'T Result in the 'Hangover Effect' Caused By Many Prescription Benzodiazepines. Restores Naturally Occurring Levels of Melatonin - Around Age 40 Many People Experience a Decline in Melatonin Production. Melatonin is a Hormone Produced During Daylight and Stored in the Pineal Gland of the Brain. This Hormone is Released Beginning At Dusk and Peaks Around Bedtime Helping to Induce a Natural and Restful Sleep. Sleep Well Helps Restore Melatonin Levels and Returns a Person to the Well Rested Energy Levels Experienced in Youth. Rapid Onset of Sleep - Melatonin is Used By Millions to Fall Asleep Faster and Have a More Restful Night. Numerous Studies Show a Significant Decrease in Time Required to Fall Asleep For Those with Insomnia Who Use a Melatonin Supplement. L-Theanine and Inositol Have Been Added As They Compliment Melatonin By Promoting a Calming Effect On the Body Making It Easier to Relax and Fall Asleep Faster. Restores Circadian Rhythms For Late Night Shift Workers and Those with Jet Lag - Sleep Well Helps to Relieve Effects Caused By Disruption of your Body's Natural Sleep Cycle or Circadian Rhythm. Sleep Well Actually Realigns the Bodies Rhythm to Its Natural State So You Can Get Back On Track By Falling Asleep and Waking Up When You Should. Helps Light Sleepers Return to Sleep Fast - Melatonin is Often Used in the Icu (Intensive Care Units) of Hospitals to Combat the Constant Disruptions Caused By Medical Equipment, Alarms, and Nurse Assessments, By Helping the Patient Quickly Return to a Restful Sleep. For Those Who Suffer Sleep Disruption At Home Sleep Well Can Have Similar Benefits. 100% Effective Yet Available As Non-Prescription - Studies Show Melatonin, L-Theanine, and Inositol to Be As Effective or More Effective Than Many Prescription Drugs At Promoting a Relaxed State and Inducing Sleep. Intended For Use By Those in Search of a Natural Sleep Aid.
Ingredients : Amount Per 1 Ml % Daily Value
Calories 5 < 1%
total Carbohydrate 0 G 0%
Sugars 0 G 0%
Vitamin B-6 (Pyridoxine Hcl) 10 Mg 500%
Inositol 50 Mg **
L-Theanine (Suntheanine Brand) 25 Mg **
Melatonin 3 Mg **
Based On a 2,000 Calorie Diet
** Daily Value Not Established

Other Ingredients: Activaloe Aloe Vera Juice, Vegetable Glycerin (Usp), Natural Flavoring, Potassium Sorbate, Grapefruit Seed Extract.

Activaloe is a Registered Trademark of Aloe Corp, Inc.
Suntheanine is a Registered Trademark of Taiyo International, Inc.

Warnings: Use Only At Bedtime. For Adult Use Only. Not For Use By Children, Teenagers, or Pregnant or Breastfeeding Women. If You are Under Medical Supervision, or Have An Autoimmune Disease, Diabetes, a Depressive Disorder, a Thyroid Condition, Epilepsy, Leukemia, or a Lympho-Proliferative Disorder, or are Taking Mao Inhibitor Drugs or Corticosteroids Such As Cortisone or Prednisone, Consult your Physician Before Taking This Product. Do Not Take This Product When Driving a Motor Vehicle or Operating Machinery.

Contains No Sugar, Starch, Salt, Wheat, Gluten, Yeast, Milk, or Soy Derivatives

These Statements Have Not Been Evaluated By the Fda. This Product is a Dietary Supplement and is Not Intended to Diagnose, Treat , Cure, or Prevent any Disease.
All Liquid Health, Inc. Products Made in the Usa
Size : 59 ML
Nutrition : Gluten Free, Dairy Free, Yeast Free, Wheat Free, Vegan