Youth Infusion Infuse Your Vitamins - 30 Packets
Item #

HGR 1556166

by

Youth Infusion

(Mfg. Part #

1556166

, UPC #

850384005005

)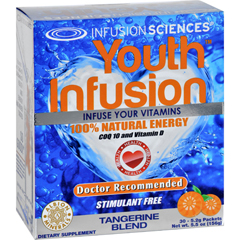 Order
5
+ and save $
0.62
Each
Say Goodbye to Hangovers, For Good! It's Important to Lead a Healthy Life By Keeping a Balanced Diet and Exercising Regularly. However, Staying Fit and Healthy Doesn'T Stop with just These Two Things a Little Boost from a Vitamin-Enriched Helper Can Go a Long Way. This is Why We Have Formulated All-Natural Energy Drinks to Cater to your Body's Nutritional Needs. Throughout the Day, Youth Infusion will Support your Immune System with Vitamin C, While Simultaneously Giving You the Energy that You Need to Keep Going. Our Drink Mix is Easy to Take As It Comes in a Delicious Tangerine Flavor. just Add Water and You've Got Yourself a Healthy and Lasting Energy Booster that Tastes Great. At the Same Time, our Vitamin Drinks are Stimulant-Free and Low-Calorie. Unlike Coffee and Other Caffeine-Filled Products, Youth Infusion Was Formulated to Give You a Full-Day's Energy Without the Crash that will Get You Down At the End of the Day. Infusion Science, together with Its Research and Products, Stands By Three Aspects that Make Sure We Only Formulate and Create High-Quality and All-Natural Products in the Market: Efficacy:
Infusion Science Supplements are Backed By Solid Research. Our Team Wants to Guarantee our Customers that our Products are Safe and Efficient. with Proper Research, We are Indeed Confident that our Natural Energy Drinks will Give You the Right Amount of Nutrients and Energy Without Adverse Effects to the Mind and Body.
Quality:
You Receive Only the Highest Quality Supplements and Vitamins from Youth Infusion. Quality is One of the Most Important Aspects of our Natural Vitamin Drinks. Not Only Do We Promote Healthy Living, We Also Ensure that our Customers Experience and See the Results of Their Money's Worth. Only High-Quality Products from Standard Procedures are Being Supported By Infusion Sciences.
Value:
You Receive Science-Based Formulations in Effective Dosages For Maximum Results Each and Every Time with our Super Natural Powder Energy Drinks. Our Research is Based On Numerous Studies that will Surely Deliver Optimal Results For Every Drink Mix our Customers Purchase. We Can Assure You that the Value of your Money will Not Go to Waste and that You will Have Only the Best Results.
Heart Health Ingredients Such As L-Arginine Have Been Known to Increase Nitric Oxide in the Body and May Therefore Help with Erectile Dysfunction. * * Note: These Statements Have Not Been Evaluated By the Food and Drug Administration. This Product is Not Intended to Diagnose, Treat, Cure, or Prevent any Disease.
Ingredients : Serving Size: 1 Packet
Servings Per Container: 30

Amount Per Serving % Daily Value
Calories 10
total Carbohydrate 1 G < 1%
Vitamin a (As Retinyl Palmitate 2000 Iu and Beta Carotene 167 Iu) 2167 Iu 40%
Vitamin C (As Ascorbic Acid, Magnesium Ascorbate) 500 Mg 833%
Vitamin D (As Cholecalciferol) 1000 Iu 250%
Vitamin E (As Dl-Alpha tocopherol Acetate) 15 Iu 50%
Vitamin K (As Phytonadione) 10 Mcg 13%
Thiamin (As Thiamine Hydrochloride) 1 Mg 67%
Riboflavin 1 Mg 59%
Niacin (As Niacinamide) 5 Mg 25%
Vitamin B6 (As Pyridoxine Hydrochloride) 5 Mg 250%
Folic Acid 300 Mcg 75%
Vitamin B12 (As Methylcobalamin) 50 Mcg 833%
Biotin 50 Mcg 17%
Pantothenic Acid (As Calcium Pantothenate) 5 Mg 50%
Calcium (As Dimacal Di-Calcium Malate) 11. 5 Mg 1%
Iodine (As Potassium Iodide) 25 Mcg 17%
Magnesium (As Traacs Magnesium Glycinate Chelate, Magnesium Ascorbate) 12 Mg 3%
Zinc (As Traacs Zinc Glycinate Chelate) 2. 5 Mcg 17%
Selenium (As Selenium Glycinate Complex) 25 Mcg 36%
Copper (As Traacs Copper Glycinate Chelate) 0. 25 Mg 13%
Manganese (As Traacs Manganese Glycinate Chelate) 1 Mg 50%
Chromium (As Traacs Chromium Nicotinate Glycinate Chelate) 50 Mcg 42%
Molybdenum (As Traacs Molybdenum Glycinate Chelate) 38 Mcg 51%
Sodium (As Sodium Bicarbonate) 68 Mg 3%
Potassium (As Potassium Carbonate and Potassium Bicarbonate) 200 Mg 6%
Glycine 500 Mg
L-Arginine (As L-Arginine-L-Malate) 70 Mg
L-Lysine (As L-Lysine Hydrochloride) 50 Mg
L-Theanine 50 Mg
L-Glutamine 50 Mg
Citrus Bioflavonoids 50 Mg
Green Tea Extract, Camellia Sinensis (Leaves) 50 Mg
Coenzyme Q10 40 Mg
L-Aspartic Acid 10 Mg
Bromelain 5 Mg
Polygonum Cuspidatum Root Extract (50% Resveratrol) 2. 5 Mg
Boron (As Boron Chelate) 0. 5 Mg
* Daily Value Not Established.
Percent Daily Values are Based On a 2,000 Calorie Diet. your Diet Values May Be Higher or Lower Depending On your Calorie Needs.

Other Ingredients: Xylitol, Citric Acid, Stevia Leaf Extract, Silica and Natural Flavor.
Quantity : 30 PKT
Nutrition : Gluten Free, Dairy Free, Yeast Free, Wheat Free, Vegan