Looking for a Wheelchair? Know All the Different Types before You Shop for One
One of the most important determinants of quality of life is freedom or independence of mobility. Wheeled mobility devices make up the largest group of assistive mobility-related technology, with at least 2.7 users within the U.S. The market is all set to explode within the next decade owing to aging baby boomers and life longevity - thanks to modern medicine. Here we will discuss the most frequently used wheelchairs and how to shop for the best one.
What is a Wheelchair?
Here is how the Oxford Dictionary defines a wheelchair:
"A chair augmented with wheels for use as a means of transport by an individual that's unable to walk due to injury, illness, or disability."
But how do you shop for the right wheelchair?
As someone looking for a wheelchair (for yourself or a loved one), the definition really doesn't help much. What you need to know as a wheelchair shopper are different types available on the market, what separates them from each other and which ones would suit your needs the best.
As simple as these questions seem, there are no straightforward answers to them. Why? Because the 21st century has made tens if not hundreds of types of wheelchairs available on the market - each offering a host of unique benefits to a targeted population of seniors, sportsmen or veterans.
From this sea of available wheelchairs on the market, you can find some with unique propulsion mechanisms, others with a modern control mechanism, while some are employing advanced, cutting-edge technology. From wheelchairs designed for daily use to those used for single activities, or ones that are only used under specific circumstances, there is no single size or model of wheelchair that can cater to every U.S user's needs. With the current 2.7 million users of wheelchairs in the U.S market expected to grow exponentially by the next decade, the diversity among users gives rise to a wide range of models and sizes. Whoever selects a wheelchair for a user needs to consult and understand the physical needs of the proposed user and the intended purpose of the wheelchair, as well as a comprehensive understanding of the design.
At Betty Mills, we want our readers and shoppers to stay as informed as possible when it comes to our diverse range of mobility products. That's why our experts have come up with this detailed, comprehensive (and visually appealing) guide explaining the types, the relevant models and proposed uses.
Here are some of the wheelchair types that are most frequently shopped for:
Standard Wheel Chairs
Standard manual wheelchairs represent wheeled chairs powered by the user's hands. The user can propel the chair backwards, forwards and even pivot by using the wheels' handling. What's more, these wheelchairs can be propelled by a caregiver from behind the wheelchair user. This is why manual wheelchairs come with handles placed behind the backrest.
There are tons of manual wheelchairs available that emphasize distinct uses. For instance, lightweight and folding ones are particularly preferred for travelling purposes since they can be easily placed into a smaller vehicle when the user moves from the chair into a vehicle. Conversely, heavy-duty chairs or bariatric wheelchairs support more weight and offer durability.
Manual wheelchairs have traditionally been an ideal choice for independent users giving them a great deal of mobility and freedom to move around. However, it is not recommended, for example, for seniors who can frequently become fatigued, particularly if they have to travel long distances or move around for a long period in a manual wheelchair.
If you're shopping for your first manual wheelchair, you need to know about the basic set up of a wheelchair. Manual or traditional wheelchairs are defined by the components that make up a basic chair. Some of these components include dimensions of seat and back, type and dimension of the armrest, types of footrests and legrests, size and type of wheel and tire and the driving rim, type and size of front-wheel casters. You also need to consider factors like weight, amount and type of use, seating inserts, and upholstery color and material.
Example
Medline K1 Basic Wheelchair with Full-Length Permanent Arms and Elevating Leg Rests, 18"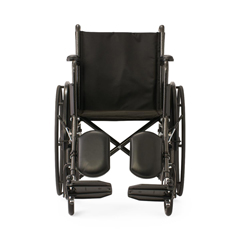 At Betty Mills, Medline K1 Basic Wheelchair is a great, affordable wheelchair that comes with Full-Length Permanent Arms and Elevating Leg Rests to offer you maximum mobility at amazing costs.
Transport Wheelchair
Transport wheelchairs are inherently made to be pushed by a caregiver and not engineered to be propelled by the user. Unlike the conventional, standard wheelchair, transport wheelchairs do not come with two large wheels and rather have four wheels that are smaller in size.
Transport wheelchairs are engineered to offer temporary mobility rather than permanent dependence. It is intended for people who can walk but are prone to get fatigued quickly or whose physical condition bar them from traveling long distances on foot. This includes people with large joint disorders e.g., osteoarthritis.
Moreover, transport wheelchairs come with convenient foldable designs, making them travel-friendly and allowing them to fit in small and tight spots. Their features include smaller, lighter wheels, allowing greater portability and ease of use when compared to standard manual wheelchairs.
Drive Medical Super Light Folding Transport Wheelchair with Carry Bag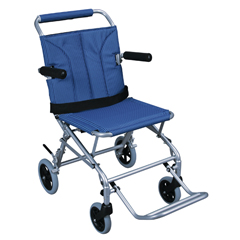 Examples
Fabrication Enterprises All Terrain Chair - 20.25" Internal Width - Safety Belt - Cushion Seat And Umbrella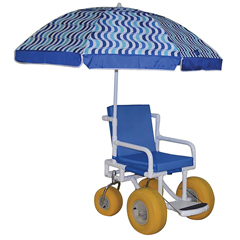 A great example of a transport wheelchair at Betty Mills is Drive Medical Super Light Folding Transport Wheelchair that comes with a Carry Bag.
If you intend to travel to the beach with your travel wheelchair, then Fabrication Enterprises All Terrain Chair is your best bet. Not only it comes with a safety belt, but the cushion seat and umbrella allows you to enjoy the beach day with your family with great mobility and freedom. Shop this amazing Beach Wheelchair here.
Pediatric Wheelchairs
Pediatric wheelchairs, as the name indicates, are engineered for kids. Visually, they look like a miniature version of an adult wheelchair. Just like their adult counterparts, pediatric wheelchairs can be augmented with positioning aids and components. Most pediatric wheelchairs will need adjustments/customization with seat width, backrest height, and armrest, leg-rest and footrest height to allow space for the child's growth.
Designing a wheelchair for the pediatric population is slightly different from the adult population. Not only the chair has to be designed in a manner that helps children adjust to its use quickly and easily, but they also need to feel comfortable interacting with peers to allow emotional growth. This is why customizing a chair to your child's liking can go a long way in developing confidence and boosting their self-esteem. It is now easier to find pediatric wheelchairs that are visually-appealing and come with fun accessories.
Example
Medline Kidz Pediatric Wheelchair with Swing-Back Desk-Length Arms and Swing-Away Elevating Leg Rests, 250 lb. Weight Capacity, 14" Width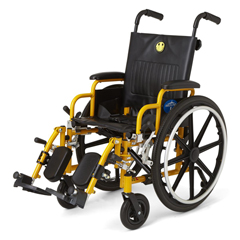 A great affordable pediatric wheelchair at Betty Mills is Medline Kidz Pediatric Wheelchair with Swing-Back Desk-Length Arms, and Swing-Away Elevating Leg Rests. Designed especially for the pediatric age group, this wheelchair will help your child easily adjust and move around in the chair.
Light-Weight and Ultra-light-weight Wheelchairs
As the name indicates, the light-weight and ultra-light-weight wheelchairs are engineered for maximum portability and mobility. Their frames are engineered from light-weight materials such as alloys and Titanium that support their durable structure.
Mostly, these wheelchairs combine foldable designs, making them an ideal choice for people who have constant travel requirements. As a new wheelchair shopper, you'll find super-light wheelchairs marked at a slightly higher price point than their traditional counterparts - owing to the light-weight material used in their manufacturing.
For Example
Drive Medical Cougar Ultra Lightweight Rehab Wheelchair w/Detachable Adjustable Desk Arms & Elevating Leg Rest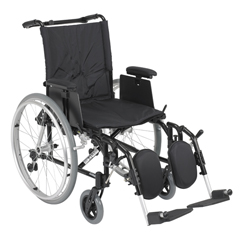 Looking for an ultra-light-weight wheelchair that's both sturdy and affordable? Take a look at Drive Medical Cougar Ultra Lightweight Rehab Wheelchair that comes with Elevating Leg Rests.
Heavy-Duty and Bariatric Wheelchairs
Heavy-duty wheelchairs are sometimes synonymously used with Bariatric wheelchairs, which define a range of sturdy, robust designs of wheelchairs that can support as high as 700 pounds of weight, making them perfect for the bariatric population.
People who are buying their first wheelchair need to know that standard wheelchairs are suitable for weights of approximately 300 pounds. Thus, individuals with a heavier build and larger body structures need heavy-duty wheelchairs to move around freely without complications.
Now, what makes heavy-duty wheelchairs, well, heavy-duty? They are not composed of light-weight metals such as alloy or Titanium like their ultra-light-weight counterparts. To maximize their functionality, they are engineered using strong materials like classic steel, making this type of wheelchair considerably heavier and not suitable for transport purposes.
Example
PMI K7 Extra Heavy Duty Wheelchair, 22" x 18", 1/EA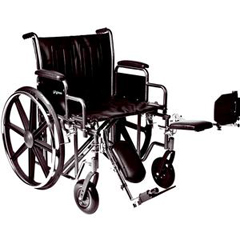 Looking for a heavy-duty wheelchair? Check out PMI K7 Extra Heavy Duty Wheelchair at Betty Mills.
Reclining Wheelchairs
Reclining wheelchairs are somewhat like tilt wheelchairs, but the Recliner wheelchairs are particularly engineered to cater to seniors that have issues with hip extension, other degenerative joint diseases of the hip rather than spinal injuries.
It is important to note that although their design provides maximum support for hip related disabilities, they can still find their use in individuals looking for a standard wheelchair.
Reclining wheelchairs on the market can be classified into two broad categories: the power-driven and self-propelled versions - both of which offer comfort and durability to the user. However, they are heavier than a traditional wheelchair and thus, difficult to maneuver or store in a small place.
Example
Medline Excel Reclining Wheelchair with Removable Desk-Length Arms and Elevating Leg Rests, 300 lb. Weight Capacity, 18" Width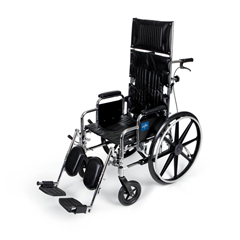 Check out Medline Excel Reclining Wheelchair with removable desk-length arms and elevating leg-rests that has an approximate weight capacity of 300 lb. and a width of 18".
Sports wheelchairs
Who said you couldn't have fun in a wheelchair? We are in the 21st century, and being impaired or disabled does not mean you can't play sports or merely cheer your peers just from the pavilion. Sports wheelchairs are a marvel of modern engineering are precisely designed for athletes and individuals with a passion for sports who are disabled in any way.
Sports wheelchairs are most frequently engineered from ultra-lightweight metal, productive ergonomics and cutting-edge technology optimized for faster speeds. The wheels are particularly made to be adjustable and can endure a range of speed and pressure readings.
The wheelchairs can also be engineered to suit a certain sport, like:
Racing Wheelchairs

Basketball Wheelchairs

Tennis Wheelchairs
The 21st-century wheelchair manufacturers have realized that off the shelf wheelchairs would not cut it for sports lovers. Previously sport-lovers used to spend hours with saw and torch in hand, tailoring their conventional wheelchairs and turning them into sport-friendly wheelchairs.
Heeding to the cry of sport-lovers, wheelchair manufacturers and one-off wheelchair crafters have now engineered higher performance sports wheelchairs - studded with specific sports features and accessories.
For Example
Drive Medical Silver Sport 2 Wheelchair with Detachable Full Arms and Swing Away Footrest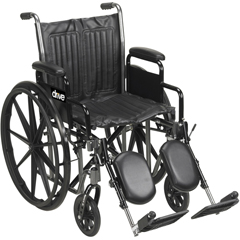 A great example of a sports wheelchair is Drive Medical Silver Sport 2 Wheelchair with Detachable Full Arms and Swing Away Footrest that comes with a 16" Seat.
Happy Shopping!
We hope that our guide will help you differentiate some of the basic kinds of wheelchairs. The best wheelchair is one that best fits your mobility needs and improves the quality of your life and your loved ones. If you are still having difficulty choosing a wheelchair, give us a call at 1-800-238-8964, and one of our representatives would be happy to assist you.